The average net tuition and fees at private nonprofit colleges is the same as ten years ago.
Do the math:
Generous financial aid
The advertised tuition at a 4-year private college reflects the actual cost, and that may be daunting and misleading. Eighty-nine percent of students at Alliance private colleges get grants, scholarships and other financial aid, averaging $22,623 per student per year. As a result, the cost of a degree from a private college is more affordable than it might seem.
Do the math:
Total cost of the degree
The total out-of-pocket cost of a bachelor's degree from a private college is often comparable to that of a public university – even with in-state tuition, especially when on-time graduation is factored in. In addition to generous financial aid, Oregon's private, nonprofit colleges' students graduate at the highest rates and with the shortest times to degree completion in the state. Graduating within four years can save private college students money by faster entry into the workforce.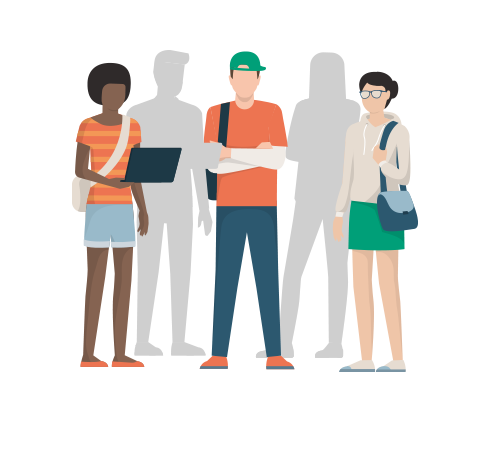 3 out of 5 Oregon private college students finish in four years;
3 out of 5 Oregon public university students finish in six years.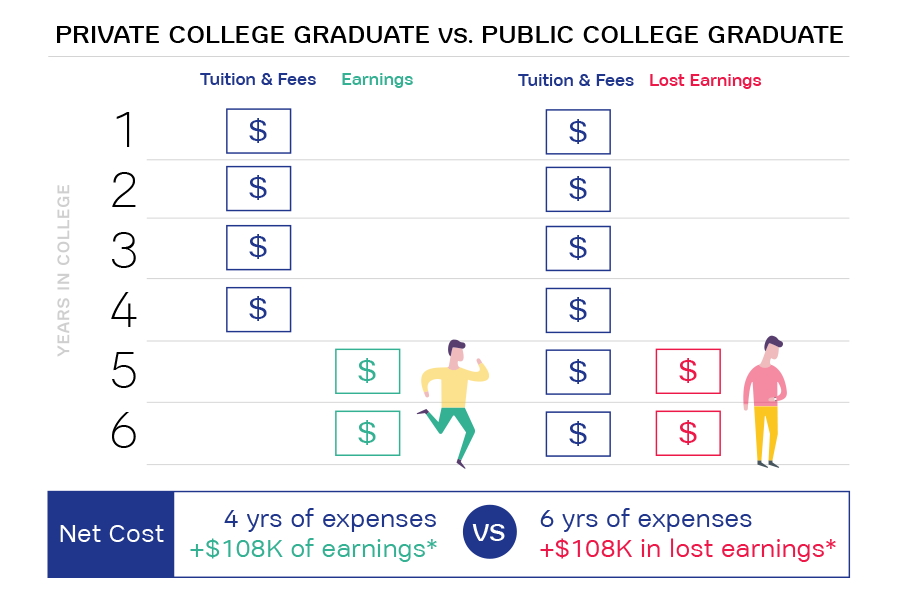 *Earnings based the national average of college graduate income ($50,219 per year).
Source: National Association of Independent Colleges and Universities
Finishing college – and finishing on time – has important implications for out-of-pocket cost and student debt. Every semester beyond four years not only means additional costs (tuition, fees, room and board), it also means lost earnings (what might have been earned, having graduated and gained employment).
FACT
Students receive more financial aid at private colleges.
On average, they receive over three times ($17,088 vs $5,476) the amount of institutional aid as do students at public institutions and over five times ($17,088 vs $3,104) as much as students at for-profit institutions. Private colleges give students nearly six times as much institutional grant aid as does the federal government.
MYTH
Students at public institutions receive more financial aid than do students at private colleges and universities.
What types of financial aid are available?
There are multiple ways and places to seek out scholarships. The key is to start early.
Key places to start your search:
Fill out FAFSA
Your high school website/counselor's office
Local community foundations
The school where you'll be applying: Check their website or contact their Financial Aid Office
Scholarships and grants (scholarships.com or fastweb)
Private scholarships
Federal student loans
Data Source: Council of Independent Colleges, November 2017
FACT
In 2014, only 4% of all borrowers owed $100,000 or more in student debt.
The average debt level of bachelor's degree recipients at private colleges and universities is $19,900 – less than the price of a modest automobile and less than 2010-2011. Meanwhile, debt at public institutions continues to rise. The average debt load for private college students who have debt is about the same as the students graduating from Oregon's public universities.
MYTH
Many students owe staggering debt when they graduate.
The truth about student debt:
At Oregon's private colleges, 93% of students receive institutional grants and scholarships, and the average institutional grant is $20,000 per student per year. 28% of Oregon private college students graduate with zero debt.
The loan default rates for students at private colleges and universities are the lowest in the state and half that of 4-year private nonprofits nationwide. Low default rates say something about the affordability of private college, and higher graduation rates underscore a commitment to helping students finish on time.
Data Source: Council of Independent Colleges, November 2017
Get the Facts: Student Success