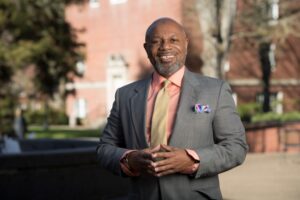 The Board of Trustees of the Oregon Alliance of Independent Colleges and Universities ("The Alliance") elected Dr. Miles K. Davis, President of Linfield University (pictured right), as its new Chair at their meeting on September 16.
"I am humbled and honored to be selected as the Chair of the Board of Trustees of The Alliance at this most challenging of times in higher education. I look forward to working with my fellow college and university presidents as we carve out a sustainable future for private higher education in Oregon," Dr. Davis said.
Dr. Davis succeeds Mark Swenson, Chief Executive Officer of Shepherd's Grain, who chaired The Alliance from October 2018 to September 2020, served as Treasurer/Secretary from April 2017 to October 2018, and has been a member of the Alliance Board since 2007.
Dr. Lesley Hallick, President of Pacific University, was elected Vice Chair, replacing Dr. Sheldon Nord, President of Corban University. Dr. Audrey Bilger, President of Reed College, was elected Secretary, and Dr. Robin Baker, President of George Fox University, was elected to continue on as Treasurer, the office he has held since October 2019. Additionally, Dr. Joseph Brimhall, President of the University of Western States, was elected to the Alliance's Executive Committee as a member.
The composition of the Alliance Board of Trustees has also changed. The Board now consists of Alliance member college/university presidents only, meaning there are no longer any Business Trustees. Three Alliance Business Trustees ended their service on September 16: Mark Swenson, Chief Executive Officer, Shepherd's Grain; Kristin Stathis, Vice President, Operations Services, Portland General Electric; and David Lyon, Senior Fellow, Research, Lonza Pharma & Biotech. Mr. Swenson and Ms. Stathis served as valued Business Trustees for the past thirteen years and Mr. Lyon for the past nine years.
Mr. Swenson, Ms. Stathis, and Mr. Lyon all made outstanding contributions to Oregon's independent higher education sector during their tenure on the Board. In appreciation for their commitment and leadership, The Alliance is making a one-time $3,000 scholarship gift to each member college and university to identify one Mark Swenson Scholar, one Kristin Stathis Scholar, and one David Lyon Scholar for the current academic year. Each Scholar will receive $1,000. The scholarship recipients must be Oregon students from underrepresented populations with substantial financial need.