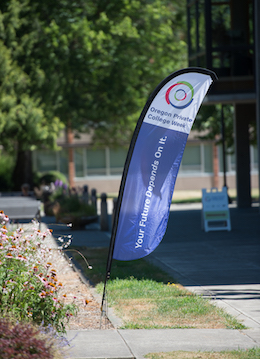 Portland, Ore. – Governor Kate Brown today declared July 23-27, 2018, Oregon Private College Week, proclaiming the "indispensable contributions of private, nonprofit colleges and universities to Oregon's communities and to the state's higher education attainment goals."
During Oregon Private College Week, eleven campuses will welcome hundreds of prospective students and their families.
"Campus visits are an excellent way for students to determine which college might be the right fit for them, one that best supports their college and career aspirations," said Kristen Grainger, President of the Oregon Alliance of Independent Colleges and Universities (the Alliance). "They will not only find these campuses beautiful and welcoming, they will learn more about the advantages of the small college experience, such as student to faculty ratios of 11 to 1."
Together, the independent, nonprofit colleges and universities that comprise the Alliance offer degrees in more than 260 fields of study, including engineering, business, law, and computer science. Oregon's private higher education sector enrolls 19 percent of the state's undergraduate students, awards 23 percent of its undergraduate degrees, and confers one in four of STEM and health baccalaureate degrees earned by students of color.
Three out of five students enrolled at one of Oregon's private nonprofit colleges finish their bachelor's degrees in four years, compared to three of five public university students who, according to the Higher Education Coordinating Commission, take six years to complete their undergraduate degrees.
"Private nonprofit colleges work very hard to help students graduate in four years," Grainger said. "Every term beyond four years not only means more tuition and fees, it means lost earnings because of a delayed re-entry into the workforce. This delay significantly drives up the total out-of-pocket cost of a college degree."
During Oregon Private College Week, prospective students and their families as well as community-based college access programs such as GEARUP and College Dreams are invited to visit, explore, ask questions, and learn about academic programs and financial aid, talk to admissions staff, and tour the campuses. College officials will also counter with facts many commonly-held myths about private higher education:
Private college students are economically, socially, and racially diverse. Nearly one in three undergraduates at an Alliance member institution receives/is eligible for Federal Pell grants. One in five is the first in their family to attend college, and one in three is a student from a demographic group historically underrepresented on the nation's college campuses.
Private colleges are focused on student success. One of the best indicators of success is class size, and the student to faculty ratio averages 11:1. Strong campus communities offer plenty of student support, advising, and hands-on learning applicable to real-world careers.
Private college is affordable. Ninety-three percent of first time, first year students at private, nonprofit colleges and universities receive financial aid, with awards averaging more than $20,000 per year.
Campus visitation sessions will begin on participating campuses at 9 a.m. and at 2 p.m., Monday through Friday, July 23-27. For more information about Oregon Private College Week, or to view a list of participating colleges, or to register, please visit www.oregonprivatecolleges.com.
See the OPCW Proclamation here.