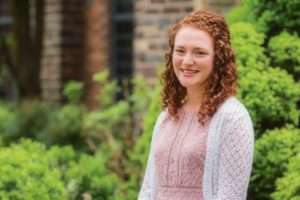 Katie Kowal, who double-majored in physics and political science at Lewis & Clark College and graduated in 2017, has been named one of only 32 recipients of the prestigious Rhodes Scholarship for 2019.
Kowal's academic and athletic achievements while she was a student at Lewis & Clark, such as creating a program for first-generation college students in STEM and earning a spot among the top ten all-time sprinters in three individual events, are nothing short of impressive.
Kowal currently works as a science policy fellow at the Science and Technology Policy Institute in Washington, D.C., where she advises White House officials in the Office of Science and Technology Policy on the scientific research that should inform national policy. Much of her work includes translating technical scientific terms for policy makers.
To read the full press release about Katie's accomplishments while at Lewis & Clark and being named a 2018 Rhodes Scholar, please click here.
Photo Source: https://www.lclark.edu/live/news/39923-science-translator-katie-kowal-wins-rhodes